I was a fan of CSNY from a young age or least of the big hits that I knew from oldies stations. Their individual names and history didn't mean much to me at the time. I couldn't figure out why the one guys singing "Our House" sometimes had such an odd pronunciation on his words or why the songs all seemed so different from one another or why sometimes they were referred to as CSN and sometimes as CSNY. All I knew is that the group had some amazing harmonies with great acoustic guitar underpinnings and a very sixties ethos that I loved.
As time went on, of course, I learned much more about who and what CSN/Y were and how significant their songs were both at the time and as an enduring reminder of the power of music to speak for a generation. I started to connect how other groups whose songs I liked–the Byrds, the Hollies, Buffalo Springfield–fed into this supergroup of accomplished musicians, each member bringing their own talent and songwriting perspectives.
While my generation gave more popularity to Young in his old age, Stills was always my favorite in terms of his songcraft and style so I came to know much more of his solo work than any of the others. It was only after seeing them in person on their politically charged 2001 "Freedom of Speech" tour that I really came to appreciate each musician and what they contributed to the group as a whole.
It was still a while before I dived in further to CSNY beyond their first two albums, but I've enjoyed since then getting to delve more into their other popular albums and singles as well as some of the solo works and duet collaborations that the members had throughout the seventies. My interest kind of stops with 'Daylight Again'; I'm not dedicated enough to dig into their much maligned works of the late 80s and 90s. But below you can find my thoughts on their most important early albums and my picks for favorites songs from each.
Crosby, Stills & Nash
(1969)
I tried to pick out some of my favorite CSN songs but in looking at this album I almost wanted to choose every single one. It just shows how good of an album resulted when three strong and talented musicians already well forged in other groups came together. It created quite a phenomenon of tight layered harmonies and wonderful acoustic underpinnings. It's also an exceedingly eclectic album in style.
The obvious famous songs are the singles "Suite: Judy Blue Eyes" and "Marrakesh Express" and the Woodstock favorite "Wooden Ships". But songs like "Helplessly Hoping" and "Guinnevere" add achingly rich ballads while the grooves of "Pre-Road Downs" and "Long Time Gone" are hippie anthems of high proportions. Of special significance is the song "You Don't Have to Cry" which was the first song upon which the trio harmonized together and discovered their signature sound.
Deja Vu
(1970)
It's amazing that this second album is even stronger than the first. The addition of Young to the mix doesn't really change the formula; in fact, the album is actually a bit more focused with tighter melodies over all. (Although Young's "Country Girl" suite is a bit too rambling for my taste but this hardly matters given the weight of the songs around it.)
Again pretty much every song is a strong one and it produced several charted hits–from Nash's sweet "Our House" and "Teach Your Children" (probably one of their most well known of their songs) to the more rocking "Woodstock". "Helpless" is a wonderfully slow and plaintive song with rich harmony. I didn't think much of "Almost Cut My Hair" until I saw David Crosby sing it in concert; I was struck by the emotion behind the song, the vague feeling of understanding that something is not right in society yet not knowing what to do about it, and it has since become one of my favorite of his. Stills gets another strong medley opener (bringing in his Buffalo Springfield background) on "Carry On" as well as closing with another grand sing-along.
4 Way Street
(1971)
This chart-topping live recording of shows from the summer of 1970 was an important record for CSNY at the time, providing more exposure and variety of their songs given the very few albums they had actually released. It presented some interesting new things like some group previews of the members' various solo songs (including the especially notable performance of "Love the One Your With") as well as some unreleased CSNY songs like "The Lee Shore". That said, it's a bit odd in some of its presentation like starting with only the closing thirty seconds of "Suite: Judy Blue Eyes" but filling up the second record with nearly fifteen minute cuts "Carry On" and "Southern Man". Plus there is rather a large amount of solo work for a group concert.
The acoustic-backed first set is rather nice in clarity for an older live performance, both in terms of instruments and voices, and offers plenty of variety in terms of off-the-cuff remarks and random guitar riffs or vocal additions. The second electric set is definitely more rocking, but the sound quality suffers, especially the voices such that the signature harmonies do not come through at all. (Plus I am disappointed that Still was apparently not at his best vocally.) Not so essential for casual fans today given all the other ways to get the same songs but a historic album for the group, especially since they broke up for many years just after its recording. A few additional tracks from the same concerts were added to the CD version of the album in 1992 (#12-15).
So Far
(1974)
Though Graham Nash famously derided the notion, it's actually fairly impressive that CSNY were able to create a hugely selling greatest hits record off of just two albums and a couple of singles. It proves just how chock full of good music those albums were. In addition to having the best of the best in one spot, this record is notable for having been the main access to the hit single and protest songs "Ohio"/"Find the Cost of Freedom", a song that had really pushed their notoriety in the day. Plus its iconic cover artwork by Joni Mitchel makes it stand out well.
CSN
(1977)
After a long absence, CSN returned with an album that is obviously not as strong as their first two. A few songs stand out, but most of them feel a little weak with either some clunky lyrics, lackluster instrumentation, or unsure melody.
My favorite songs are the ones that capture the traditional harmonies of the group: "See the Changes", "Just a Song Before I Go", and "In My Dreams" (which just so happens to be one song from each member of the group). Showing my Stephen Stills leanings, I also really like "Run From Tears" (it has a marvelous running base line) and the disco-like "Dark Star" is almost really good as well (if the harmonies had only been a bit tighter.) "Shadow Captain" and "Cathedral" are often highly regarded but they don't do much for me; they are very grandiose in style but ramble a bit and don't have enough of a focus in their melody to suit my taste.
A lot of the rest of the songs on the album are forgettable. (Indeed, I really don't know how the dreadful "Fair Game" and "I Give You Blind" got chosen as singles over some others but nobody thinks much of them these days.) Still, it's nice that their music as a group continued in spurts like this and pushed forward their iconic status.
Daylight Again
(1982)
After a long gap yet again, 1982 saw the release of another album from the group complete with a totally unfitting but very early 80s record cover. Actually, it was never intended to be a CSN album at all but rather a project of Stills and Nash as a duo. However, the record company refused to produce anything if they didn't get the best-selling group back together so they had to drag Crosby out of his drug-addled haze to add his voice to the record.
The opening song of the album provides a clear example of what the group would have sounded like as a rather mediocre soft rock band. Fortunately, the next two songs are picture perfect CSN songs that showcase their harmonies and acoustics and are the strongest and most popular songs on the album. (Both are hit singles that had MTV videos as well.) Meanwhile, it's telling that David Crosby's song contributions "Delta" and "Might as Well Have a Good Time" are strikingly plaintive and sad with lyrics of being lost.
The rest of the album is fairly innocuous, feeling more like solo works of Stills and Nash. Nash's attempt at serious rock in "Into the Darkness" fails due to his voice not being suited to it in my opinion, but his love song to his wife "Song for Susan" is quite pleasant and a better showcase of his ability. Stills strives to close out the album with a callback to their heyday, framing an anti-war song "Daylight Again" within the bookends of their similarly themed famous hit "Find the Cost of Freedom". (One other interesting discover for an S&G fan like me was to find out that Art Garfunkel is part of the harmonies of that song.) Their last album to break the top 10.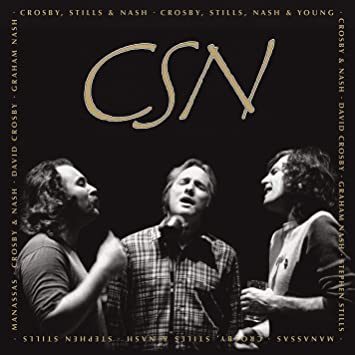 CSN
(box)
(1991)
For anyone who is more than a casual CSNY fan, this is the compilation of choice. It's a bit overwhelming if all you want to hear are a few well-known songs, but if instead you want to get an idea of the whole arc of what each member (except Young) did over most of their career then it's a good place to start before getting into their individual albums. One caveat is that a lot of the versions of the CSN songs here are alternate takes which might spoil your appreciation for the original album cuts. On the other hand, you can get unreleased CSN songs as well as songs from some of the solo and duet albums of the members which aren't even available anymore these days.
Greatest Hits
(2005)
This supposed greatest hits album is kind of an uninteresting middle ground to me. It adds later hit songs but pretty much all of these can be found on the more extensive box set. Worse, it loses essential songs like "Woodstock" and "Ohio" because they couldn't include Young's contributions here. Really their original compilation So Far is more of an enjoyable listen. I would only get this if you are trying to supplement that album but don't want to buy their third and fourth albums themselves.