"Tonight I'll sing my songs again"
– from Homeward Bound
Despite going their separate ways professionally in 1970, the occasion for Paul Simon and Art Garfunkel to work together did not disappear entirely nor was the voice of Simon & Garfunkel as a group silenced. As one would expect, greatest hits collections began surfacing almost immediately, and they continue to appear today. In the early years, there were also many instances where they participated in joint projects. Over time, there were even some attempts at a reunion with varying levels of success. The duo's "Old Friends" tour was a hugely successful (and somewhat unexpected) reunion that has captured some of the old magic of Simon & Garfunkel. A review of some of those reunions and new projects are included here.
---
SIMON & GARFUNKEL, POST-1970
Below is a list of many of the instances where Simon and Garfunkel crossed paths over the years after their break-up. The more significant instances are highlighted.
Paul Simon showed up in the credits (as an instrumentalist and vocalist) on many of Art Garfunkel's early records;
Paul and Art sang and acted together on the second-ever Saturday Night Live in 1975 (and appeared together again on the same show later);
An attempted studio reunion of the duo in 1975 would ultimately fail due to creative and personal tensions. It did however produce the first post-breakup single "My Little Town":
My Little Town (1975) – Of particular significance in the post S&G era is one of the only new Simon & Garfunkel songs to have been released after the break-up of the pair in 1970. Originally to have been part of a bigger duo project that dissolved, the song "My Little Town" can be found on both Art Garfunkel's Breakaway and Paul Simon's Still Crazy After All These Years.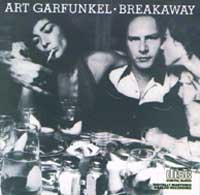 Art and Paul sang in trio with James Taylor in 1978 on the song "(What A) Wonderful World" which was released not as a S&G song but rather as a single by Art Garfunkel with Paul Simon and James Taylor. It can be found on Garfunkel's album Watermark;
In 1981, the pair reunited for a hugely popular concert in Central Park which was their most significant S&G event in the ten years since their split at the time. The concert was released as an album the following year:
The Concert in Central Park (1982) – One of the most famous reunions of Simon and Garfunkel as a duet occurred at their concert in New York at Central Park on September 19, 1981. It was billed as the first real reunion of the duo despite the fact that they had actually worked together often since their initial separation. Warner Bros. Records released the concert the following year, and it contains not only several classic S&G songs but a surprisingly large number of songs originally recorded as solo works by Paul Simon (but sung here of course by both Simon and Garfunkel). In addition to these are a few 1950s classics ("Wake Up Little Susie" and "Maybelline") that have always been a favorite of the duo and one of Art Garfunkel's solo releases ("A Heart in New York"). I find it a shame they didn't sing more of Garfunkel's solo hits and this may hvae been a sore point.
Mrs. Robinson | Homeward Bound | America |
Me and Julio Down By the Schoolyard |Scarborough Fair |
April Come She Will | Wake Up Little Susie |
Still Crazy After All These Years | American Tune |
Late in the Evening | Slip Slidin' Away | A Heart in New York
Kodachrome/Maybelline | Bridge Over Troubled Water
Fifty Ways to Leave Your Lover | The Boxer | Old Friends
The 59th Street Bridge Song (Feelin' Groovy) | The Sound of Silence
A previously recorded but unreleased comic bit featuring the two singers appears on Garfunkel's 1993 Up 'til Now album with a hilarious parody of the tensions leading to their split called "The Breakup";
In 1993, the pair attempted another reunion but it was short-lived and plagued with tension. It only resulted in a few concerts on a small tour.
After yet another decade, the duo appeared on-stage for the first time in ages performing "Sounds of Silence" at the 2003 Grammy's upon receiving a Lifetime Achievement Award.
This appearance led to an apparent reconciliation and the "Old Friends" tour was born. The pair performed their old songs together in a hugely popular reunion tour, traveling across cities in the US and Europe in 2003 and 2004 and making associated promotional appearances on David Letterman and other television program:
The Old Friends Tour: The long-awaited reunion tour of Simon and Garfunkel was a great success and great fun. I was very glad to have the chance to attend the Atlanta show. The duo still made a perfect musical match and provided a concert full of great moments. I was really happy to see that they performed so many of their non-single hits. Highlights included the crowd's enthusiastic response to clips of The Graduate building up to a performance of "Mrs. Robinson", an appearance of the S&G predecessors the Everly Brothers as all sang "Bye Bye Love", "The Only Living Boy in New York" (a personal favorite), Art Garfunkel's spotlight solos, and Paul Simon stamping with his guitar on "Cecilia".
Simon and Garfunkel debut their new song on NPR called "Citizen of the World". Written many years ago but never recorded until now, it is the first new song by the duo in almost 30 years. The anthemic peace lyrics as written then remain relevant today.
Simon & Garfunkel release Old Friends: Live on Stage a CD/DVD with performances of the duo on their concert tour. The CD also contains the new song "Citizen of the Planet":
Old Friends: Live On Stage (2004) Following a long awaited and quite successful reunion tour, Simon and Garfunkel released this CD/DVD set that includes songs from the tour concert performances as well as a new recording called "Citizen of the World". The CD captures the fun of the concert–many of the old songs are presented in their original style with two voices and a guitar. Others are given a more contemporary treatment which made the concert lively and makes the album fun to listen to. Let's hope the new collaborations continue to come!
---
---
SELECTED COMPILATIONS AND SPECIAL RELEASES
Old Friends (1997)
This 3-CD collection is the standard box set for most Simon & Garfunkel fans. While it does not contain every song the duo ever released, it does come close. The most interesting part of the collection, however, are the rare releases and live versions of familiar tunes. It is almost worth buying the album just to hear hard-to-find songs such as the B-side "You Don't Know Where You're Interest Lies" and the unissued "Blues Run the Game". Also worthwhile is the concert commentary (almost entirely spoken by Art Garfunkel) which gives a new dimension to the group for those who never got to see them in concert.
---
Live from New York City, 1967 (2002)
This release of the concert which Art and Paul gave at Philharmonic Hall on January 22, 1967 is a perfect example of their ability as a duo with only the two on stage and Paul on guitar. Many people have commented on how in tune their harmonies were at this point. Stylistically, their music was still rather simple yet infused with depth since Simon had already produced some of his most contemplative, poetic lyrics.