John's Music Boxes:
The Albums of the Mamas and Papas
Here are my thoughts on the full-length albums that the Mamas and the Papas put out in their time together from 1965 to 1968. I have also included the Mamas and Papas reunion album of 1971. In addition to a list of the songs on each record and a brief overview of my opinion of the album, you can read more from the liner notes of each one under 'Dedicated to the Ones They Love' in the menu
---
If You Can Believe Your Eyes and Ears (January 1966)
This was the first full album released by the group, and it contains many of the hit singles such as "California Dreamin'" and "Monday, Monday" which they had released previously. As the album title implies, the group and the songs showcased here were considered a triumphant discovery. Their harmonies that were so tight and nicely arranged that this immediately became a hallmark of the group. I like all the songs on this album although the bigger hits obviously stand out. Not only are all the melodies penned by John Philips very strong melodies but they are a good example of the variety of approaches that the Mamas and Papas took to singing including gentle ballads, folk pop/rock tunes, and cabaret-style reviews.
Charted at #1 – Dunhill LP 50006
Side One: Monday, Monday | Straight Shooter | Got a Feelin' | I Call Your Name
Do You Wanna Dance | Go Where You Wanna Go
Side Two: California Dreamin' | Spanish Harlem | Somebody Groovy
Hey Girl |You Baby | The In Crowd
---
The Mamas and the Papas (August 1966)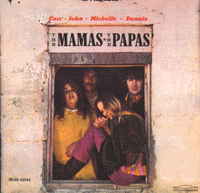 This is actually the first CD I ever bought and I still love it. The individual songs are among the finest crafted of all the Mamas and Papas work with harmonies that play off of each other and lots of call-and-response that became another signature of the group. It was a good showcase for the strong song-writing ability of John Phillips since he wrote or co-wrote almost every song on it. It was clear at this time that though their personality could appeal to youth their music was accessible to all. Phlips incorporated the sound of standards and show tunes and Lawrence Welk-type 'champagne music' that the group performed wonderfully over folk instruments and rock beat that made the sound something new and appealing and for a larger audience. There are also impossible to categorize songs like "Dancing Bear" and "Strange Young Girls".
Charted at #4 – Dunhill LP 50010
Side One: No Salt on Her Tail | Trip, Stumble, and Fall | Dancing Bear
Words of Love | My Heart Stood Still | Dancing in the Street
Side Two: I Saw Her Again | Strange Young Girls | I Can't Wait
Even If I Could | That Kind of Girl | Once Was a Time I Thought
---
The Mamas and The Papas Deliver (February 1967)
This is regarded as one of the weaker recordings of the group, mainly because of a number of clunky experiments that drive down the album as whole. Several songs have instrumentation and melodies that just don't work (especially "String Man" and "Boys and Girls") or are odd instrumentals. Even the title is not very clear (some call it Deliver only; others use the entire phrase) but either way it's a purposeful play on the fact that Cass Elliot had recently had a child. Some of the best songs on this particular record are ones not written by John Phillips. Their wonderful covers of "Dedicated to the One I Love", "My Girl", and "Twist and Shout" are all found here. One stand out work, however, is the unique "Creeque Alley" which manages to chronicle the entire history of the Mamas and Papas in a few lyrically brilliant stanzas. Also nice is "Look Through My Window" and "Sing for Your Supper". With so many good songs on it, the album should have been a good solid work—if it had just been arranged just a bit differently with a bit more professional presentation it could have been.
Charted at #2 – Dunhill LP 30014
Side One: Dedicated to the One I Love | My Girl | Creeque Alley
Sing for Your Supper | Twist and Shout | Free Advice
Side Two: Look Through My Window | Boys & Girls Together | String Man
Frustration | Did You Ever Want to Cry | John's Music Box
---
The Papas and the Mamas (April 1968)
Lyrically, this is probably one of my favorite Mamas and Papas albums. Again written almost entirely by Papa John, this record speaks more to social issues of the time and to the escapes that people sought from them. It also offers a slight change in character and tone for the group towards more of an "Eastern" or "psychedelic" feel on many of the songs such as "Meditation Mama" and "Gemini Childe". It is definitely a more thematic album with a focus on youth, social boundaries, duties, turbulence, conflicting ideals. Musically, there are many interesting choices in times and rhythms and bit of mish-mash in song styles. A major problem is the mixing of the recording is not clear, with muffled words and overpowering instruments such that today many do not really know what the lyric is. It is not considered one of the best for the group but I quite like it.
Charted at #15 – Dunhill LP 50031
Side One: The Right Somebody To Love | Safe in My Garden | Meditation Mama (Transcendental Woman Travels) | For the Love of Ivy
Dream a Little Dream of Me | Mansions
Side Two: Gemini Childe | Nothing's Too Good for My Little Girl | Too Late
Twelve Thirty | Rooms | Midnight Voyage
---
This reunion album of 1971 met with a rather cold reception both critically and commercially. Even the members of the Mamas and Papas themselves were apparently unhappy with the results. It was after all only done as a forced contractual obligation. This sound of the album does not really flow naturally from their previous work—hardly surprising given the three year gap and the absence of Lou Adler as producer. Not only is the song writing not very tight but singing is not very polished and, while the signature harmonies are still there, a lot of the intricate interplay and running call and response is missing. ("Pearl" is one of the few songs that even comes a bit close to the good harmonies and layered lines of their previous work.) There was potential there—the "fake country" sound and rhythms showcased here were popular at the time and could have been used to great effect. But not much care was given as to how they fit into the song and the sound of the group and thus come off as rather cheesy and hackneyed. There is an obviois lack of enthusiasm in the voices and performance which shows the group members were not really into it and it's not a surprise the album flopped rather than heralding a return for the group.
Charted at #84 – Dunhill LP 50106
Side One: People Like Us | Pacific Coast Highway | Snowqueen of Texas
Shooting Star | Step Out | Ladey Genevieve
Side Two: No Dough | European Blueboy | Pearl
I Wanna Be a Star | Grasshopper
Blueberries for Breakfast