Coldplay : albums || back to music list
---
Coldplay was a band whose music I only started following as a whole much later in the game than everyone else though I had often liked their individual songs as they came out on radio. I was particularly happy with "A Rush of Blood to the Head" but thought it was a one-off great album until the release of "Viva La Vida" got me to consider checking out all the rest. Since then, I've seen how each of their albums seems to have its own tone and musical flavor and I am especially impressed with how their artwork and videos and musical themes all wrap up together into a whole.
---
Parachutes (2000)This first album of the group won them a Grammy as a stand-out example of the alternative of the new millennium. Most of the songs on the album show more indy rock flavor than the grandiose and artful work they are now known for—though some stand out songs in the middle give an idea of what would come. "Yellow" and "Trouble" are the most well-known radio hits and good examples of the nice melodic hooks that they offer in all their work.
A Rush of Blood to the Head (2002) This album holds most of my favorite individual song melodies. The stand-out "Clocks" with its cascading piano and strong hooks was what drew me to the album, but the whole set is full of catchy but complex tunes in a variety of styles and moods. The very strong first half of the album is especially impressive and the tone of the whole album is quite insistent—as if with each song the singer wants to convey a very important message that builds in intensity as it goes on. "The Scientist" is also a great example of how their songwriting can take a seemingly too-specific story (hard for people to relate to some scientist pining for love) and pull out a broader concept in the chorus such that you hardly notice the rather odd setting.
X&Y (2005)This album captured a lot of attention for the anthemic "Fix You" but the art (computer type, mathematical coordinates) and themes (exploration, questioning) purposefully complement the more electronic sound of the album. My favorite song is "Talk" which opens with an other-worldly swirl that was heightened by the video homage to old B-movie space explorer films.
Viva La Vida (2007) While some may find the album a bit too artsy, the songs and instrumentation are immediately catchy with wonderful strings and unexpected rhythms. The hallmark of the album—and what draws me most to it—is not only the great music but also the European imagery of the lyrics throughout with descriptions of old London, the "mysterious East", the French revolution, and such all offering metaphors for larger themes in the trials in life. The old-world feel of the album is underscored thematically as most of the songs reference dark ghosts and haunted memories or war and loss. The cover shows Delacroix's "Liberty Leading the People" and the title is taken from a Spanish painter's work. A wonderfully atmospheric album.
Mylo Xyloto (2011)Yet again Coldplay offers an album whose sound, words, and art all integrate into an overarching mood and theme. I can only think to call the overall feel of this album "bright": from the cover's splash of eye-catching neon color and quirky rhyming name to numerous exuberant and bouncy melodies and songs with hopeful lyrics. Throughout the album is a running electronic sparkle (evidence of the hand of Brian Eno) that enhances its "shininess". The songs don't seem as weighty and artfully crafted as those of their phenomenal last album–but that almost seems to fit with the lighter overall theme anyway.
Ghost Stories (2014) As usual, the artwork and lyrical themes of the album reveal a lot about its music. With nightime skies and oceans in soft blues and running references to magic, angels, and ghosts, its hardly a surprise the mood of this album is airy and celestial. The slow grooves are filled with hazy vocals and light keyboard (there is even a running motif of ethereal choir voices) but this is also offset by a bit of electronic dance vibe. A very nice relaxed album and I've come to realize that it is really my second favorite of all their work (after Viva La Vida) . Easy favorites are "Magic", "True Love", and "A Sky Full of Stars".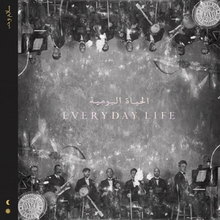 Everyday Life (2019)
Coldplay's album Everyday Life definitely tries to be epic. I see it as an (overly ambitious) attempt to create something akin to the Beatle's White Album–a double album where much of the content seems to be unrefined ideas for songs presented half-completed (and laced with expletives) in an attempt to be 'raw' and 'authentic' while the rest is a hodepodge of tapping into other cultures to emphasize their social consciousness and connection to the world. It comes of a little too smug rather than earnest. That said, there are some great moments like the first two singles "Orphans" with its great sing-along anthem hook and the amazing "Arabesque" which really does tap into the best of other culture and music by collaboration with Stromae and Femi Kuti.
Music of the Spheres (2021)
If their last "double album" had a bit too much material then they may have been trying to make up for it by this one having much less than normal; quite a few of the tracks are short transitions or instrumentals. They definitely hold true to the thematic idea between title, packaging, sound, and lyrics. Packed with bright drawings of planets and solar systems, this album looks and sounds like the grand soundtrack of a planetarium documentary or a modern space movie and is full of titles like "Humankind", "Alien Choir", and "Higher Power". (Indeed, the video for the catchy signature duet with BTS called "My Universe" looks like something straight out of the MCU. ) They still do some more rocking numbers like the fun "People of the Pride" but the low point of the album is the awful distorted use of Martin's voice on "Biutyfyul". The long closing number "Coloratura" is actually beautifully orchestrated–turning into a movie score as well as a list of famous astronomers, stars, and constellations.