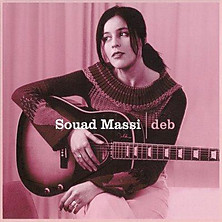 Souad Massi
From Algeria but based out of France , Souad Massi is a very popular female singer and songwriter. I started with her album Deb (meaning 'heartbroken') which was apparently one of the most popular albums to have come out of North Africa in a long time. Most of her songs are subdued singer-songwriter affairs but she pulls in influences of traditional Algerian song, French ballad, Afrobeat, Congolese soukous, and pretty much whatever else she wants. My enjoyment of her music grew as I collected her entire catalogue and she is decidedly my favorite world music artist. Though sung in Arabic, French, and other languages, sometimes the lyrics are translated in the English version release allowing one to enjoy the personal and poetic aspects of her albums as well.

Khaled: Didi, Sahra
Some of the most interesting music traditions arise from the blend of cultures in the world. One of particular importance is the mix of traditional Arabic music and Western jazz and pop out of northern Africa known as raï. Most notable of the artists associated with this movement is Khaled (aka "The King of Raï") from Algeria. Though most of the songs are performed in Arabic, Khaled will occasionally include a song in French with some interesting sounding results. The song "Aisha", penned by French master Jean-Jacques Goldman and interpreted wonderfully by Khaled, is now a French standard.
Amadou & Mariam: Welcome to Mali
This strong duo, a blind couple from Mali singing in both French and Bambara, have long had a signature sound in rhythmic Afropop—with the high-pitched chant-like melodies of Mariam (or the matter-of-fact almost spoken singing of Amadou) set over a rolling electric guitar and wooden percussion. Their profile raised greatly with the popularity of their remarkably well-produced Dimanche a Bamako album and this popularity was propelled even further with the release of Welcome to Mali and the sampling of the captivating first track "Sabali" by groups as varied as Maroon 5 and Nas. Overall the album addresses their sound to a wider western audience with some stronger melodies and several songs in English.
---

King Sunny Ade: E Dide – Nigerian juju music is popular continent wide and its "king" is the long-standing talent of King Sunny Ade. The rhythmic beats of his songs are accentuated by the distinct traditional Yoruba 'talking drums'. I even had the chance to see King Sunny in concert at a festival in Atlanta.
---
Sierra Leone's Refugee All Stars: Living Like a Refugee
How could I resist an album from a musical community of refugees from West Africa who rocketed to fame from the middle of their refugee camp? With the lyrics of Reuben M Karoma painting the day-to-day refugee experience with true West African flavor, the various individuals that came together in the group offer music styles ranging from reggae-influenced protest to traditional juju rhythms to broad Afrobeat.
Papa Wemba: Emotion – Recommended to me by refugee friends from Congo-Kingshasa, Papa Wemba is a giant of African music not only in his native country but across the continent. His largely Lingala lyrics are sung in a characteristic high sing-song voice set to upbeat African slide guitar and rhythmic drum. His 1995 release Emotion was his foray into blending a more Western pop sound into his traditional music to gain a more international audience—even covering Otis Redding and adding some Latin beat.
Zap Mama: A Ma Zone – This Belgian-Congolese group of women uses the instrument of voice and vocal sound to create unique sounds and harmonies as they sing songs that mix French, Swahili, Lingala, and English. They experiment with rhythms and noises with some surprising results. It's not just studio mixing either–I saw an outdoor concert performance in Atlanta which proved it's pure skill. They have ranged from purely traditional sounds to mixes of African and American hip-hop, and I think the album that presents their best balance of these is the popular A Ma Zone (which also gets kudos for a great double-meaning title).
K'Naan: Dusty Foot Philosopher– Though he is based in Canada where his family fled as refugees, K'Naan is famous as a singer of Somali heritage and became well known with his enormously creative album Dusty Foot Philosopher. Within his modern day rap (reminiscent of the style of Eminem), he weaves elements of his traditional music and language and more importantly uses it as a vehicle to express the plight of his homeland and the sometimes seething anger of life in war as a refugee. My favorites are "Soobax", "I Was Stabbed by Satan", and "Until the Lion Learns to Speak".
---