---
Christophe Mae: La vie d'artiste (2019)
Christophe Mae is a popular singer-songwriter in France and I had heard several of his bouncy acoustic songs online over the past few years. I especially enjoyed the lilting and celebratory "Les Gens" which I heard many times during my visit in early 2020.
Clara Luciani: Sainte-Victoire (2018)
The songs "Nue" and "Ma Soeur" from Clara Luciani's debut album were still quite popular in France during my 2020 visit. In fact, it was almost impossible to escape them because they stood out so with their heavy retro-disco beat, catchy tunes, and her uniquely gaunt appearance in the videos. The album itself is quite long and full of similar songs as well as some other styles. One I quite enjoy is a very muted duet Luciani does with Philippe Katerine on a cover of an old Marc Lavoine song called "Qu'est-ce que t'es beau"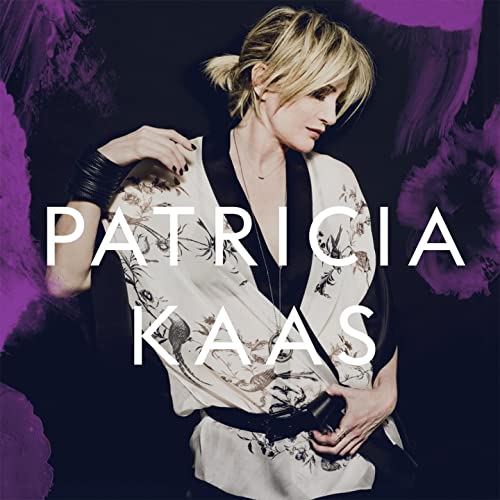 Patricia Kaas: Patricia Kaas (2016)
Ever since first discovering her years ago, I have tried to keep up with Patricia Kaas's career and was quite excited by this self-titled release which was the first full-fledged album of original material that she had done in years. It is full of great songs from the fun and singable like "Madame Toutlemonde" to the serious and gut-wrenching like "Cogne" to the smooth and anthemic "Embrasse"
Stromae: Racine Caree (2013)
I first heard Stromae on a French video channel (he's actually Belgian) and was immediately captivated by the uniqueness and creativity of his songs and accompanying videos "Papaoutai" and "Formidable". But when I heard and saw "Carmen"–a scathing critique of social media through the creative use of the famous opera as well as it's incredibly dark video, I knew I needed to get his album.
Melissa Nkonda: Nouveaux Horizons (2011)
Another album I discovered on my 2011 visit to Paris. While this French pop singer highlights a little bit of her African heritage on the album, most of her songs are a catchy pop that spins through an array of fun styles from eighties new wave to bluesy R&B to disco and more.

Zaz: Zaz (2010)
I stumbled across this album by Zaz while on a trip to France. Looking at pictures of this young French singer, I never expected the remarkable sound of her warbling voice and music—songs that recall the halcyon days of Parisian street music made famous by the likes of Edith Piaf and others. Yet if you can imagine those songs with a slight modern day sensibility, you have the very enjoyable sound that has made her a quite popular new singer.
Carla Bruni: Comme si de rien n'etait (2008)
Singing in French with the occasional foray back into Italian, model-turned-singer/songwriter Carla Bruni's first album simply consisted of her playing guitar as she gave a soft but husky voice to her melody. While this first album was nice enough, I mainly bought Carla Bruni's next album simply because she had famously become the First Lady of France after a whirlwind affair and marriage to Nicolas Sarkozy. The new album was a pleasant surprise, however, building on her first work by adding more instrumentation and thus a broader sound. It's a bit more easy-listening in style but I find it quite appealing. Her songs, which she writers herself, largely have a lonely, dreamy quality with very cleverly written lyrics.

Kamini: Psychostar World (2007)
I was introduced to this hilariously creative addition to the French rap scene one by a French friend who loves slightly subversive humor. Kamini became famous through his satirical video "Marley-Gomont" about life as part of the only black family in a rural French village. This theme runs through much of this work while–perhaps even more bizarre–the rest consists of amusing reflections on his work in a psychiatric hospital. His songs are silly and farcical with hilarious videos to match.
Francis Cabrel: L'essentiel 1977-2007
I happened to visit France just at the time that the hugely popular grandhomme of contemporary French music Francis Cabrel released this two-disc career retrospective. It's not an entirely apt description, but he is sort of a French James Taylor in a way; he started as a singer-songwriter in the late seventies with an acoustic sound that would remain at the root of his style as he continued creating popular tunes throughout the following decades. His popular songs, some of which have become staples of French music, include many bouncing fun numbers as well as gentle ballads with wonderful lyrical imagery.
Les Innocents: Meilleurs Souvenirs (2003)
Back when I was a student in Paris, several catchy songs of the Innocents were very popular. Their pop with experimental sensibilities is layered with great melodies and dense lyrics. I bought some singles at the time but since they have a long career in French music starting from the early 80s, I was glad when they released a retrospective album where I could hear more of their hits.
Paris Combo: Attraction (2002)
This eclectic jazz combo group is fun to listen to in terms of their music which is usually upbeat and multi-influenced. Their albums play with flamenco, old-style French ballads, new and classic jazz, and several other flavors. The real payoff of this group, however, comes if you speak French and are thus able to enjoy their witty, sarcastic, and even off-the-wall lyrics; the Barenaked Ladies find a kindred French spirit in the humorous yet sophisticated writing of this group's songs. They have several albums (Living Room is also popular) but this was the one that I first discovered and I think best shows off their wit.
Mylene Farmer: Innamoremento (2000)
Mylene Farmer is a big name in France, the French equivalent of Madonna with her boundary pushing sexualized videos of the 1980s and trend-setting styles and deepening lyrics and music of the 1990s and beyond. This album full of complex music that highlights Farmer's ethereal voice and is incredibly dense in its lyrics. Even understanding French fairly well, I have to pull out a dictionary to understand the nuances of the obscure (sometimes created) words that comprise the songs. Favorites are the slightly techno numbers "Je te rends ton amour" and "L'ame-stram-grame" (also notable for its rather disturbing music video.)
Manau: Fest Noz de Paname (2000)
This group offers a surprising mix of French rap and Celtic music. I discovered this album by it being on display to listen at our local Borders Bookstore. I was immediately startled and captivated by the humorous initial track on the album Fest Noz de Paname album, but its their style of upbeat rap (which, if you're not familiar with French rap, was a lot more musical and playful than most American-style rap at the time) mixed with Breton traditional music that gives them such a unique sound. One of the few rap groups where you'll also find a bagpipe solo on the same album!

Patricia Kaas: Dans Ma Chair (1997)
Patricia Kaas is a French chanteuse who has been singing in bars and cabarets throughout France since she was nine years old. She has a very strong voice which comes through in her sultry ballads and blues/jazz influenced songs. Though I knew of her from France, I only started to really pay attention to her music in Québec after I heard the song "Quand j'ai peur de tout". I even got to see her in concert in Montreal. It was quite an amazing and entertaining show. The album Dans ma chair was one of her most catchy and pop-oriented and definitely a favorite of mine.
Zazie: Zen (1995)
Zazie's cool and sexy voice blends well with the sleek pop grooves of her songs from this album which were still highly popular when I was a student in France. I remember hearing 'Larsen' and 'Zen' many times over on the radio as well as the music videos everywhere. Listen all the way through the album to hear the hidden track—a long drawn out counting of sheep!
---