Maroon 5: albums || back to music list
---
Maroon 5 is a modern pop rock group whose mix of R&B/jazz rhythms is made distinctive by the high nasal singing style of lead singer Adam Levine. (His looks and unabashed sensuality which feature prominently in the group's videos undoubtedly have a lot to do with their popularity as well.) They are not exactly prolific writers—they only have released a few regular albums over the years with several intervening live versions or special cuts of their work in between—but each album has yielded a good number of radio songs to make them well known.
---
Songs About Jane (2002)Maroon 5's hugely popular first album was packed with radio hits; the album comprises a unique mix of R&B/jazz elements with both loud guitar rock ("Harder to Breathe") and smoother groove ("The Sun"). While most of the famous songs on the album are quite catchy straightforward tunes, the more jazz-inflected offerings are definitely what give this particular album most of its character.
It Won't Be Soon Before Long (2007) Maroon 5's second album moves away from heavy jazz tinges into a much sleeker almost disco styling that has become more reflective of the group overall. Their R&B groove interest remains (and the closer does reflect some of the jazz interest) but there is here much more of a focus on stylishness (which can be seen paralleled in multiple videos with Levine in tuxes and luxury) with electric reverb and fuzzy guitars. This is probably my favorite album just for the variety of catchy tunes, electronic sound, and energy tempered by several slower sentimental numbers like "Goodnight, Goodnight".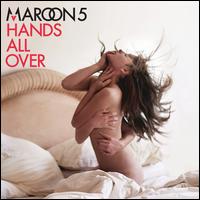 Hands All Over (2010)This album follows pretty directly from their previous ones in style and song themes.  There is a bit more of a rough rock edge on most of the songs and perhaps a bit more driving style.  That said, one of the unique collaborations is the slow twang of "Out of Goodbyes" with country duo Lady Antebellum. There are also a number of jazzy songs like their first album (like "Just a Feeling" and "I Can't Lie") and dance groove numbers ("Give a Little More") like their second.  It's an enjoyable listen over all.
Overexposed (2012) I was rather disappointed that this was the first album by the group that I listened to and did not immediately have a long list of songs that grabbed me. There seems to be an attempt to add a modern synthrock and hip-hop layer to the music, but much of the group's melodic swagger is lost and most of the songs come across rather tuneless and rushed through. There are few new elements that seemed to be good ideas—adding a bit of world rhythm flavor in "One More Night" and "Wipe Your Eyes"(sampling Mali duo Amadou & Mariam's 'Sabali') for example—and a couple of songs that are more in line with Maroon 5's established style ("Beautiful Goodbye"), but overall I find it falls kind of flat because there's just not much attention to melody.
V (2014) This album is a bit of a return to form for Maroon 5 with lots of catchy tunes and tighter production. The overarching stylistic element of this album scream mid-eighties nostalgia. There are lots of Police-style guitars and synthesized drums in the vein of Genesis–but they come across well, especially on one of my favorite songs on the album "It was Always You". After a strong start, the album does falter a bit in the second half with a few clunky songs that seem more suited for their previous album and somewhat plodding adult-contemporary duet by Adam Levine and Voice co-host Gwen Stefani. Overall, though, I enjoy the album and was relieved it allowed me to continue being a fan of Maroon 5's music.
Red Pill Blues (2017) This album is right in line with a lot of current youthful trends in terms of production and song elements, perhaps a reason why I wasn't too enthralled at first listen. I've come to enjoy the more upbeat parts of the record—especially the duets with SZA and Julia Michaels–and the first smooth opener is a nice throwback song. I am not so much a fan of the 'slow jams' and ballads and rap interludes for much of the rest of the record. At least the melodies are largely solid. One song I really like is the ending called "Closure" which is not so much of a song as a jazzy hook with a repeated chorus that then strings along into a jam session for about ten minutes in all. I should mention that you have to buy the deluxe version to get the singles they released earlier in the year since these are 'extras' and not part of the album.
Jordi (2021) I am not really a fan of this one. Lots of very up-to-date sound with autotuned reverb and clipped vocals over syncopated electronic percussion but not much really enjoyable melody. At least they throw a bone to old music by doing a duet of sorts with Stevie Nicks on her song called "Remedy" that has a nice tuneful chorus. Of course they have a few anthem songs on here that were hugely popular like "Memories" and "One Light".
---
---