Matchbox Twenty : albums | rob thomas| playlist || back to music list
---
Matchbox Twenty is one contemporary band whose music I am always willing to buy right away. I remember first hearing their songs in college and liking their brand of modern rock—not too harsh, well-crafted, and with catchy lyrics. I especially took note of the unique voice of Rob Thomas which would later be used to such acclaim in tandem with Santana on "Smooth". Their later releases sounded just as good—strong tunes with interesting lyrics and good production—but it was when I heard the multi-faceted song "Beautiful Girl" that I knew I had to start buying the group's albums. That particular song really struck me with its varied rhythms and melodies and showed me that the group was definitely not stuck in a formulaic box. Their sound would eventually become a staple throughout the rest of the nineties and today.
---
Yourself or Someone Like You (1996) Apparently this album was a sleeper hit. In the wake of the grunge rock era, no one realized that a more tuneful and crafted brand of rock would become so popular. The album produced several hits, however, and went on to sell greatly after a slow start. It's actually not my favorite of the group' s releases—the standout songs "Push", "Real World ", and "3 am" kind of overshadow some weaker songs on the record–but Yourself is still a good starting showcase of how the group presents a great blend of songwriting, musical style, and presentation.
Mad Season (2000) This is probably the best of the group's albums in terms of song craft—it is a very meticulously produced album with a lot of great songs. There's a kind of versatility on this album in the way each song is played—and enhanced by Rob Thomas' vocal stylings. From the cool bass/guitar line on "Bent" to the to the playful pronunciation on "Mad Season" to the background vocals on "Last Beautiful Girl" to the orchestral denouement of "You Won't Be Mine", there are specifically chosen elements running throughout the album that enhance each song and give it a separate character.
More Than You Think You Are (2002) Another great album in terms of the production of the songs and the stylishness with which the group delivers them. Again, they seem to play around with several different ways of presenting the songs and to great effect. Though the album did not generate as many radio hits, I find it to be full of great songs and enjoyable to listen to all the way through. One of my favorites is "Downfall" which breaks from an organ-underpinned rock into a full-out gospel chorus midway through.
North (2012) After early 2012 brought a very disappointing round of albums from some of my favorite artists, I was so happy that Matchbox 20 came through (a whole decade after their last full-length release) with a great album for the year. All the strengths of their group–catchy melodies, tuneful guitar, interesting odds and ends in production–are here in spades. Many of the songs have an eighties throwback percussion ("She's So Mean", "Radio") that keep with current popular trends while Rob Thomas's ballads are less electronic, more grounded than on his solo work. Also interesting is the lead vocal of guitarist Kyle Cook on the song "The Way", an addition that adds a totally different character of song to the mix.
Exile on Mainstream (2007) An odd two-disc combination of a six new songs on one and a compilation of eleven hits on the other. The new radio single "How Far We've Come" follows the popular trend of using a bouncy ska-like rhythm while most of the other songs are typical Matchbox ballads. Though these are the first new songs from the group in five years, the small number of them makes the album seem rather inconsequential.
"Smooth" (1999) It may not give a great boost of ego to the band as a whole, but most people agree that it was this Rob Thomas/Santana collaboration that really solidified the popularity of Match Box Twenty. The song off Santana's famous Supernatural album ate up the charts, and–despite it being a solo effort—Rob Thomas's voice was immediately identifiable with the group Match Box Twenty. Their already big albums sales increased substantially after the song's release.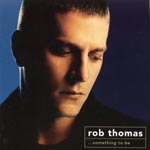 Something to Be (2005)
A much heralded solo project of Rob Thomas, this album gave him the chance to explore some other musical styles that were a bit too pop-oriented to fall under the auspices of a Matchbox Twenty project.  His first release "Lonely No More" was quite a popular radio hit as were several songs after.
---
cradlesong (2009)
Another solo album of Rob Thomas, the album continues his penchant for strong melodic hooks and a grand pop sound that uses a lot of odd sounds.  Like his prior solo work, the singles flew off quickly one after the other with "Her Diamonds" then  "Someday" then "Gasoline" all released hard on the heels of each other.       
The Great Unknown (2015)
The Great Unknown misses a beat a little bit for me. All Thomas' signature flair is there — smooth, peppy songs with odd electronic elements thrown in, moody ballads, singalong celebrations — but the fun feels a little forced; melodies of the songs don't instantly get stuck in your head and the words feel a little bit clunkier and paint less vibrant pictures.  Maybe others agree because it seems to be his first solo project not immediately to spawn big hit singles in a row.  Still some of the songs grow on you like the jaunty "Hold On Forever" or the singalong "One Shot".
Chip Tooth Smile (2019)
Rob Thomas's fourth solo effort is definitely better than his previous one. Because it is very much like his previous works, it has not garnered as much interest though some of the songs are just as strong as those that were previous hits. The more I listen to it the more I like it. I also find the purposefully 80s throwback "Timeless" to be an excellent and unique song, not just in its sound but its subtle weaving of classic era songs into the lyrics:
Let you find your sweet dreams, girls just wanna have fun
Maybe we're tied up, Maybe we're a strange love
But don't you want me? …
Free falling to the ground, I wait for you to save me
This is a new sensation, I give it all that I've got
I'll be your father figure, I'll be your Major Tom

---
1.
Push
Yourself of Someone Like You
2.
Feel
More Than You Think You Are
3.
3 am
Yourself of Someone Like You
4.
If You're Gone
Mad Season
5.
How Far We've Come
Exile on Mainstream
6.
Angry
Mad Season
7.
Radio
North
8.
Downfall
More Than You Think You Are
9.
Real World
Yourself of Someone Like You
10.
Last Beautiful Girl
Mad Season
11.
Bent
Mad Season
12.
Overjoyed
North
13.
Mad Season
Mad Season
14.
Bright Lights
More Than You Think You Are
15.
You Won't Be Mine
Mad Season
Bonus
track
Someday
(Rob Thomas)
cradlesong
---