RSJ: albums|| back to music list
---
This Australian born singer moved from light church songs to crafting a steadily more progressive type of music for herself in the late nineties and early 2000s. Though she eventually mellowed and moved away from recording altogether, she was at one time one of the most exciting artists in Christian music. From a start in standard pop sounds, she moved to experimenting with electronica, dance rhythms, and a variety of other things. Her Christian faith remained a strong current in her lyrics with a focus on trying to raise the interest of the younger generation in faith and an uncompromising lifestyle. With her message and music together, Rebecca's songs come across as quite exciting and infectious.
Reborn: "If you see a change in me don't wonder; there's Someone in my life and peace I can't describe for I've been reborn. If you see a change in me don't wonder; I've found a whole new life and hope that I can' t hide for I've been reborn."
---
Rebecca St. James (1994)
Rebecca's first major album consisted largely of light pop sounds with a somewhat one-dimensional flavor. There are, however, a few songs that give an indication of where her music was heading.
Christmas (1995)
Rebecca's Christmas album which revamped a number of Christmas classics. It also solidified her willingness to try on current sounds and trends.
God (1996)
The second major album by RSJ marked a move by the artist towards the edgier sound that would come to characterize her music. The sound here has a lot more depth with heavy guitar, strings, and percussion as well as more impassioned and intense vocals.
Pray (1998)
This album expanded the scope of Rebecca's work even further by kicking the energy level higher with experimentations with electronic sound, reworking of classic songs, and lots of beat. She also shows a much more mature, confident sound as she sings. Looking back, I would say it is probably her strongest album overall.

Transform (2000)
Though not every song falls in the category, this is RSJ's first album that truly embraces electronica and gives a nod to techno/dance music. There are some full out dance songs on here as well as unique songs with very catchy hooks. Though it doesn't have an even tone as an album, it has some of my favorite individual songs.
Worship God (2002)
Rebecca's worship album gives several well known praise songs (and some new ones) a cutting edge and great sound.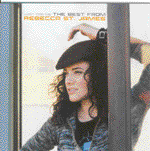 The Very Best of Rebecca St. James (2003)This best of album contains many of Rebecca's well-known songs, some of which appeared on other collaboration albums. It also adds a couple of new songs to her repertoire.
Live Worship (2004)
This live worship album contains eight modern worship songs, most already previously recorded by Rebecca on studio albums as well. It gives a fairly good slice of what her concerts are like—an upbeat band, energetic young crowd, and lots of calls to worship and short prayers by Rebecca.

If I Had One Chance to Tell You Something (2005)
This was RSJ's first "regular" album since she began releasing a number of worship and best-of works. This album tends toward much more of rock and guitar sound and thus seems a bit heavier than past albums. A now signature RSJ style runs throughout: strong vocals and guitar punctuated by sweeping (sometimes frenetic) strings. Also interesting on this album are her collaborations with TobyMac and Barlowgirl. Unfortunately, it would also be the last album of hers that I would buy as she moved away from music for a while and, when finally returning, had left behind a lot of that signature sound.
---